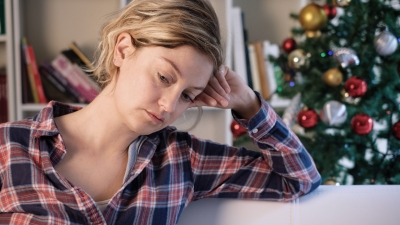 For many people, Christmas is a time for year that we look forward to, the festivities, the traditions, and spending time with family and friends. We are surrounded by happiness and warmth (despite the UK weather) or so we are led to believe.
We imagine cosy nights in front of the telly with the fire is glowing. The images in adverts are of loved ones close by and everything seems so calm and peaceful. Everyone is laughing and drinking Eggnog BUT for some people this couldn't be further from reality.
Surviving Christmas after suffering from abuse
One in 5 people who survived childhood abuse find that the festive is season is the hardest one of all. Christmas time for them only brings back memories of their abusers thinking about gatherings where the abuse took place. For some, Christmas can be a very lonely time of year; those who perhaps no longer have any family to gather with because they escaped their abusers. 
Similarly, records show that the Christmas period is the one to evidence the biggest rise in reports of domestic abuse. Factors such as the financial pressure of Christmas, increased stress and anxiety and increased alcohol intake are often reported as causes for incidents of domestic violence.
What can you do if you're suffering from abuse?
For anyone who has suffered from childhood abuse, sexual abuse or domestic abuse we urge you to seek help. You are not alone! There are a number of charities and support groups available where you live and regionally to help you. It is also really important to report the abuse to the police. There has previously been a stigma against reporting abuse to the police for fear of not being believed or a fear of repercussion from the abuser, however police forces across the country are taking any form abuse very seriously.
Fleeing an abusive relationship can more often than not, see people leave with very little. Winston Solicitors can help you claim compensation to assist you in putting your life back on track. In order to claim compensation, you must have reported your abuser to the police and supported the police in prosecuting the offender. To find out whether you are eligible for compensation, please call 0113 320 5000 to speak with one of our dedicated Criminal Injuries Experts or complete the online application form and one of our experts will call you.
Where can I get help if I'm being abused?
Safeline are a charity dedicated to helping survivors of sexual abuse, regardless of gender.
Refuge are charity dedicated to helping people flee domestically abusive relationships. If you are stuck in an abuse relationship you can contact them for help.
Assault at Christmas
We generally see a rise in serious assaults around this time of year more often that not these are caused by muggings or unprovoked physical assaults. We see plenty of cases of assault that have occurred whilst innocent victims enjoy the festivities that this time of year brings from the works night out, "Mad Friday", frenzied shoppers and people with "road rage". Whilst Christmas is perceived generally as a very jolly time of year and one that brings only joy it can also bring out the very worst. 
Being involved in an unprovoked assault
If you have been the innocent victim of an unprovoked assault, you may be eligible to claim compensation. Winston Solicitors specialise in claiming compensation through the Criminal Injuries Compensation Authority for innocent victims of a physical attack and sexual assaults. To be able to make a claim for your injuries, you must have reported the incident to the police as soon as reasonably practicable and in most cases within 48 hours. Providing you have supported the police with their investigation and your injuries meet the minimum threshold of the scheme; you may be entitled to compensation. 
Complete our online CICA calculator to see how much your claim may be worth and one of our dedicated criminal injury experts will call you to discuss your claim further.