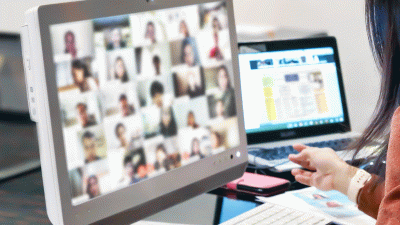 The boss of a US firm has been criticised after he fired around 900 of his staff on a single Zoom call.
"If you're on this call you're part of the unlucky group being laid off," said Vishal Garg, chief executive of mortgage firm Better.com, on the call, which was later uploaded to social media. Comments on social media said it was "cold", "harsh" and "a horrible move", especially in the run up to Christmas. "Last time I did this I cried," Mr Garg told the staff on the call. "I wish the news were different. I wish we were thriving," he said. This time his tone was measured and he referred to notes on the desk in front of him.
Mr Garg said staff performance and productivity, and market changes lay behind the mass-firing of what he said was 15% of Better.com's workforce.
The actual  announcement to staff "Hi everyone, thank you for joining. I come to you with not great news. The market has changed, as you know, and we have to move with it in order to survive so that hopefully we can continue to thrive and deliver on our mission.
This isn't news that you're going to want to hear but ultimately it was my decision and I wanted you to hear it from me. It's been a really, really challenging decision to make. This is the second time in my career that I'm doing this and I do not want to do this. The last time I did it I cried. This time I hope to be stronger. But we are laying off about 15% of the company for [a number of] reasons: the market, efficiency and performances and productivity.
If you're on this call you are part of the unlucky group that is being laid off. Your employment here is terminated. Effective immediately."
The right way to make redundancies
The situation facing Better.com's staff in the US would not happen in the UK. Legally, UK employers have to enter a consultation period with workers of at least 30 days, or 45 days if more than 100 people are being made redundant.
During that period employees should be given the right phrasing, eased into the situation, given warning, prepared for the news and explained the reasons why. UK employers also have to look for alternative roles for workers. An employer really needs to tell people that they've exhausted every possible alternative, it is the last thing they wanted to do - it is about being able to leave with your dignity and respect intact.
A mass-firing like this would not be legal in the UK and would likely lead to multiple claims in the employment tribunal. In practice, employers are likely to offer enhanced terms subject to the employee signing a settlement agreement. 
Just because you can do this in America, doesn't mean you should. There are ways to do these things which, even in difficult conditions, are empathetic and decent. It could harm the firm as well as its staff as existing employees will look to how the company treats people as a signal to how it will treat them in the future.
Please contact us for redundancy and HR advice or any other employment matters.